Flat/Apartment for Sale in Baridhara
The residential area of Baridhara is one of Dhaka City's top-ranking elite class neighborhoods. This area contains all modern amenities, sublime environment & it's occupied with luxurious residential houses.
Assure Group has developed some of the best-designed properties in Baridhara. Since 2007 we're providing you the best-featured properties merged with beauty & comfort. So if you're searching for flats for sale in Baridhara, Dhaka, consider us a top choice.
Reach Out to Us to Get Your Dream Flat in Baridhara!
Featured Properties at Baridhara
We've three beautiful properties completed in Baridhara but only one of them is available at present. The property consists of exquisite flats for sale in Baridhara. The sublime modern architecture of this building will attract anyone's attention & it contains all the modern amenities that you need.
Assure Marina
Nature: Residential
Land Area: 4.37 Katha
Facing: North.
Storied: Ground + 9 Living Floor.
Number of Apartments: 09 Nos.
Number of Elevator/Lift: 01 Nos.
Number of Car Parking: 09 Nos.
Apartment Size: 1721 Sft.
Sold Out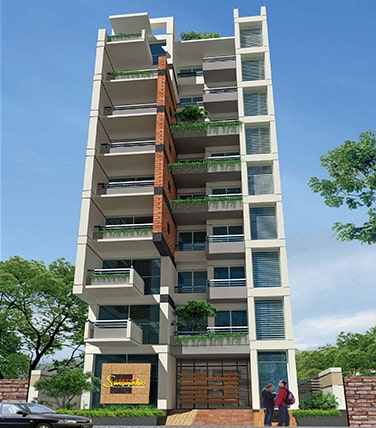 Assure Swapnoshiri
Land Area: 11.75 Katha
Facing: South
Height: G+8 living floor
Unit per floor: Five Units
Unit area: A=1302 sft, B=1302 sft, C=1287 sft,D=1056 sft, E=1287 sft
What is Special About Our Flats?
Exceptional Design & Style
We're renowned for our functional & aesthetic architecture. We hire the best architects to provide creative designs & luxurious styles for your dream home. We mingle both western & traditional modes to make your home divine.
Innovation & Quality
Creativity is a priority when our architects start designing plans. We make sure to be innovative in encompassing all the necessary details. And while constructing properties we are never compromising about the quality.
Excellent Locations
We select our locations by evaluating the surrounding area and the accessibility it can offer. Mostly we prefer modern areas. These areas are located where you can easily travel, shop, or do other mandatory tasks.
Verified Legal Documents
Integrity is one of our very best attributes. This entire process will be carried out according to the appropriate legal proceedings and verified papers. Before we handover your apartment, you will be given all the formal documents.
Why Baridhara is The Best Place to Live in
Accessible Location
You can go to Baridhara using multiple different routes including Hatirjheel, Pragati Sharani, Badda Link Road, Gulshan, etc. depending on where you start your journey. It is one of the most accessible locations in the capital connected with multiple important areas.
Safe Neighborhood
Baridhara is the essence of elitist paradise. It hosts several international consulates resulting in airtight security throughout the area and thereby a very low risk of encountering a mugger. The neighborhood consists of civilized & sophisticated people so it's an ideal place to bring up your children.
Multipurpose Region
Baridhara is one of the most significant residential areas in Dhaka where multiple tasks can be completed. This place hosts multiple high-quality shopping malls, restaurants, hospitals, consulates, government establishments, etc. Hence you can say Baridhara has it all.
Educational Institutes & Hospitals
Many renowned educational institutions for both adults and children exist in Baridhara & its nearby areas. These institutes aim to build a promising future for your children. South Point School & College, NSU, IUB are notable examples. A large number of healthcare institutions exist here as well.
High-Standard Lifestyle
People want to live where they have access to satisfying all the basic needs & all other essential amenities. Baridhara is one of those places in Dhaka where all of those checkboxes are ticked on your list. You have easy access to grocery stores, shopping centers, hospitals, restaurants, etc.
Refreshment Hub
To enjoy a suitable life, refreshment & entertainment are necessary as well Baridhara offers you lots of restaurants, cafes and shopping malls of high quality to spend some quality time with your friends and family. There're lovely lakes & parks for your refreshment as well.
Contact Us to Get Your Dream Home.
Land Wanted for Development in Baridhara
As a renowned property development company, we provide our customers properties in Baridhara that are strategically perfect for purchasing. Now we want to expand our projects in Baridhara. Hence we are searching for plots to develop them into a compatible commercial or residential space.
Develop Your Plot into a Suitable Residential or Commercial Space with Us Today!