Ready Properties ( Flat / Apartment ) for Sale in Banasree, Dhaka
Banasree is considered a great residential area both for upper and middle-class people. Assure Group, the name of convenient housing in Dhaka city, offers comfortable flats for sale in Banasree.
Our apartments in Banasree are well-equipped with modern facilities and have all the qualities for a balanced lifestyle. Contact us and get your perfect home in this fast-growing urban center of the capital.
Get in Touch for Your Ideal Flat in Banasree
Our Featured Properties in Banasree, Rampura
Because of the towering success in the real estate sector, the apartments of Assure Group are always in-demand. At this moment, all our flats in Banasree are sold-out. Please check our other residential properties in Dhaka.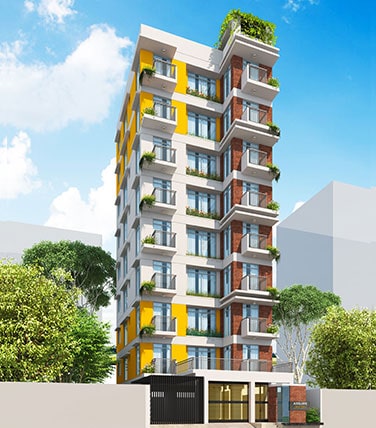 ASSURE Hakim Palace
Nature: Residential.
House-D/4 | Road-03 | Block-D | Banasree | Dhaka.
𝗔𝗽𝗮𝗿𝘁𝗺𝗲𝗻𝘁 𝗦𝗶𝘇𝗲: Type-A: 1429 Sq. Ft. (Single Unit)
𝗢𝗿𝗶𝗲𝗻𝘁𝗮𝘁𝗶𝗼𝗻: North Facing.
𝗛𝗲𝗶𝗴𝗵𝘁𝘀: G+08 Storied
03 Beds | 03 Baths | 03 Verandas | Dining | Family Living | Kitchen with Veranda
Sold Out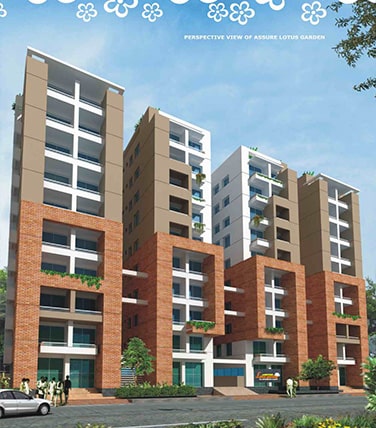 Assure Lotus Garden
Land Area: 17.00 Katha
Facing: East
Height: G+9 living floor
Unit per floor: six units
Unit area: A=1203 sft, B=1152 sft, C=1152 sft, D=1203 sft
E=1009 sft, F=1009 sft
What is Special About Our Luxurious Flats?
Quality Architecture and Design
We always put tremendous focus on maintaining the quality of our buildings. Our modern technology ensures high-performance of the structure. We make sure the apartments' designs are in line with the functional needs of a modern lifestyle.
High Livability
All our flats exceed the livability factors required for a healthy lifestyle. Our apartments are designed masterfully by the best experts taking the surroundings into account. We ensure there is enough ventilation and natural light in the buildings.
Sublime Locality
With Assure flats, you have the luxury of living in a great location. Our residential properties are in flourishing neighborhoods. You will find all your necessary social amenities within the minimum distance of our flats.
Verified Documents
We hand you all the necessary property documents by following the due legal procedures. Our meticulous work ensures your complete authority over the property without any loopholes.
Banasree: Quality Living for Middle Class People
Unique Accessibility
Banasree is an area that gives you easy access to all the prime locations of the city. Hatirjheel and other link roads have made commuting from Banasree easier than before. Dhanmondi, Mirpur, Mohakhali, Badda, Gulshan- none of these are too far from Bannasree.
Social Amenities
Eastern Banabithi, Rampura Supermarket, Molla Tower are some of the few shopping malls that you can find here. Top healthcare facilities are here too. There are some renowned schools and universities in Banasree for your child's quality education.
Fun and Entertainment
Banasree offers ample entertainment opportunities. Hatirjheel has been a place of crowd attraction since its renovation. There is a food street in Banasree dedicated to the food lovers where you'll find a variety of eateries.
Affordable Living
Banasree is quite affordable for its location and other facilities. That's why it has a huge demand among people with a limited budget. It is a rapidly growing area and, being adjacent to the main points of the city makes it lucrative among property seekers.
Contact Us to Get Your Dream Home.
Land Wanted for Development in Banasree
Develop your land in Banasree with Assure Group. We are specialized in residential, commercial, and integrated properties. With our comprehensive land development service, you will get the most out of your property.