Elegant Flats for Sale in Ramna, Dhaka
Many people want to buy a home in Dhaka city for a better life, but finding the perfect one can be difficult. Assure Group has built some of the most sophisticated flats for sale in Ramna, Dhaka where you can find your perfect home.
Ramna has been considered one of the naturally beautiful places in the crowded, ever-moving life of Dhaka. Regarding all the benefits, it is an ideal place for having a home of your own.
Our Featured Housing Properties in Ramna
Our Ramna Project has been developed to ensure the resident's comfort and a certain living standard. These flats have all the necessary amenities that should be incorporated for a convenient living experience.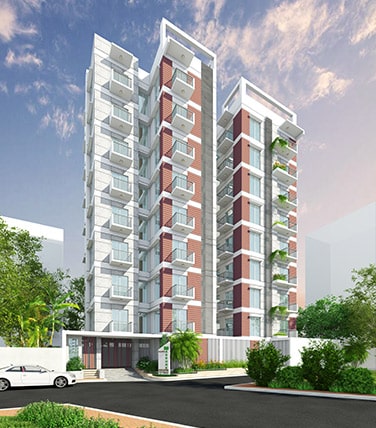 Nasifa Assure Orchid
Nature: Residential.
Land Area: 6.25 Khata
Facing: West
Storied: Ground + 9 Living Floor
Number of Apartments: 09 Nos.
Number of Elevator/Lift: 01 Nos.
What is Special About Our Flats?
Modernized Design & Style
The layout plans and style of our properties are always based on modern trend techniques. We make sure all the spaces are used in a functional way with a smarter approach.
Quality & Originality
Followed by an expert management system and creative department, all of our constructions are built with standard materials based on the specific structural design to ensure quality.
Excellent Areas
Location is very important for housing property. Our apartment locations are selected after going through ample research about the surrounding, localities, and available facilities.
Verified Legal Records
We make all the sales by abiding all the legal protocols and systems. Once you become our client, it is our duty to follow you up throughout the process by providing proper paperwork.
Why Ramna is The Perfect Place to Live in
Easy Commuting
Being at the center of Dhaka city has made Ramna an easy commuting spot. You can take public transports to visit the major points like Motijhil, Aftabnagar, Shahbag, etc. and Local transports for short distances.
Neighborhood
With a natural set up of green sites and sceneries, Ramna is always crowded with friendly communities. Living in that place gives you the chance to enjoy the beauty and coziness of different ways of life.
Multifunctional Area
You can count the Ramna area as a place where diverse traits are found together. It has all types of commercial, recreational, and residential features along with a touch of the traditional side of Dhaka.
Education and Healthcare
There are various renowned educational institutions like Siddhweshwari girls college, Ramna model school, etc. in the Ramna area. You will also find many healthcare centers for medical emergencies.
Life-Style
Ramna is a nature-driven place where you can meet many people from various traditions at the same time. This calm and peaceful neighborhood has always maintained a balanced lifestyle among the people.
Entertainment Scopes
Ramna park has one of the most beautiful parks in Dhaka. Various festivals or an evening walk, you can do whatever you want. You can visit Shahbag, Shishupark, restaurants, etc.on your off days.
Contact Us to Get Your Dream Home.
Joint Venture Land Development in Ramna
Ramna is one of the most natural places in Dhaka city to live in. We are looking for ideal areas where we can build more aesthetic structures for you. If you want to develop your land in Ramna, let us discuss the potentials over a cup of tea!