Flats for Sale in Farmgate, Dhaka
Farmgate is widely recognized as a commercial area of the capital city with hundreds of businesses and financial institutions. Assure Group offers a fantastic opportunity for you to become a homeowner in the area with its flats for sale in Farmgate, Dhaka. Experience the buzzing life in the major commercial hub of the capital with us.
Our flats in Farmgate are in prime locations where you can find getting in and out of the city so easy. You will have all the modern facilities in our excellently designed apartments. Contact us for your ideal home in Farmgate.
Get in Touch for Your Ideal Flat in Farmgate
Our Featured Properties in Farmgate
Because of the towering success in the real estate sector, the apartments of Assure Group are always in demand. At this moment, we don't have any available flats in Farmgate. Please check our other residential properties in Dhaka.
Sold Out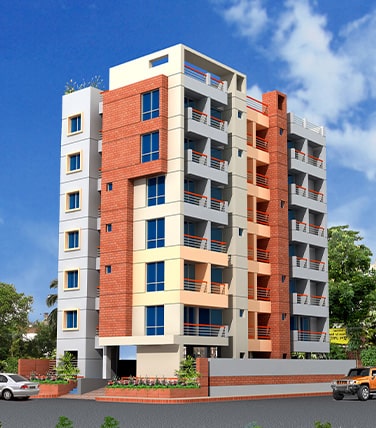 Assure Boghon Villa
Nature: Residential
Land Area: 5.22 Katha
Facing: North East Corner
Height: G+8 living floor
Number of Apartments: 8 Nos.
Apartment Size: 2407 Sq.ft.
Parking: Ground
Why We are Your Best Choice for Flats in Dhaka
Excellent Design and Architecture
We have materialized the latest design in our flats. The architectural brilliance of our apartments is much-admired by top experts and residents alike. Modern lifestyle gets more sophisticated in our high-performance buildings.
Guaranteed Comfort
Functionality and comfort are what we take into account while building out apartments. Our experts keep the environment and neighborhood in mind. Our constructions are unique in terms of ensuring high livability and a convenient lifestyle.
Prime Locality
Our flats are in areas where you'll find tranquility and a vibrant lifestyle at the same time. We have residential properties in great communities with all the social amenities. You'll have comfortable and safe locations guaranteed.
Verified Documents
We hand you all the necessary property documents by following the due legal procedures. You'll have complete authority along with verified papers of your dream home in the quickest possible time.
Why Farmgate is Special for Having a Flat
Unique Accessibility
Farmgate is a transportation hub and gives you easy access to all the parts of the city. Living here is like living in the center of a web where all the major routes have originated. Metro rail has been the latest inclusion in this list.
Social Facilities
You'll find plenty of social amenities in and around Farmgate. Govt. offices, business centers, educational institutions, hospitals - all are easily accessible from here. Nearby Kawran Bazar is the largest wholesale market of the capital.
Commercial Opportunities
Farmgate holds immense business opportunities as a huge number of financial players have their hold in here. It is a multifunctional central hub in Dhaka and offers promising openings for virtually everyone.
Recreational Facilities
In Farmgate, there is no shortage of entertainment means. The National Parliament is just around the corner which is a popular hang-out place. Bashundhara Shopping Mall, Chandrima Uddyan are nearby for having a good time.
Land Wanted for Development in Farmgate
If you are looking for a quality land development service in Farmgate, we are here to assist you. Our years of expertise in property development have earned the trust of the clients. We know how to use the resources to make a land worthy of investment.