Ready Flats for Sale in Elephant Road, Dhaka
Having your own flat in Dhaka city could be considered an unachievable dream at times. But with Assure Group, now it is possible. We are offering some of the most beautifully designed flats for sale in Elephant Road, Dhaka.
These opulent residences can be your permanent place to live in. Our well-made apartments will give you a cozy feel along with the satisfactory lifestyle you have been looking for.
Call Us for Your Dream Flat in Mohammadpur
Our Featured Properties in Elephant Road
Currently, we have one complete residential project in Elephant Road. But due to the huge demand, we will start some new property development soon. Check out all the available flats for sale in Elephant Road, Dhaka before they get sold out!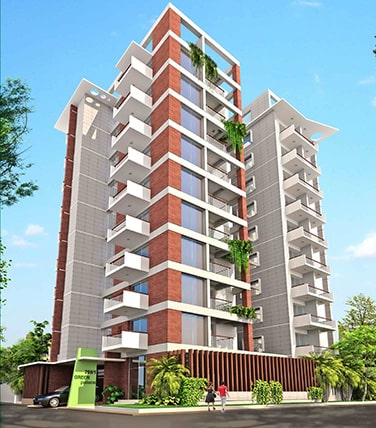 Assure Green Palace
Nature: Residential Building.
Storied: Ground + 09 Floor.
Land Area: 7.5 Katha.
Number of Apartments: 18 Nos (02unit per floor)
Number of Elevator/Lift: 01 Nos. passenger.Lift
Number of Parking: 14 Nos.
Parking: Ground Floor.
Apartment Size: A = 1535 sft. B = 1535 sft.
What is Different About Our Flats?
Distinctive Style
Our unique style of apartments will catch your eyes at first glance. We make sure to put some individuality in all of our designs to stand them out among hundreds of buildings.
Structure and Quality
Our products are always of premium quality. While the design and structure are our primary focus, the materials and other details are always in our priority list for a proper outcome.
Great Location
Our plots are selected based on some basic criteria in order to make your life easy and comfortable. You won't feel you are at any disadvantage precisely because of your location.
Verified Paperwork
We conduct all our dealings following the thorough legal protocol. There is no scope for any confusion as you will obtain all the documents along with the apartment you bought.
Why Elephant Road is The Ideal Place to Live in
Convenient Area
Elephant Road is an area from where you can easily commute to any major location of Dhaka City. Like Hatirpool, Shahbag, Karwan Bazar, etc. All public and private transports are also available from here.
Community
This area is surrounded by many prime locations such as Science Laboratory, Shahbag, KatabonKatabon, etc. The friendly neighborhood is filled with various people of cultures and tastes.
Multiplan
Elephant Road works as an important link between many commercial and residential hubs of Dhaka city. It is one of the most convenient places to stay as you can get everything necessary within your reach.
Education and Healthcare
As it is a near spot of some major locations, many recognized institutions like Dhaka University are situated within a comparably short distance. You can also get healthcare services in case of emergencies.
Standard Living
Elephant Road has access to all essential means for conducting a regular life. The friendly community and the natural set up always make you feel at ease, making you forget all the hustle and bustle of Dhaka city.
Recreational Facilities
On the weekend, you can find many things to do in Elephant Road. Shopping malls like Newmarket, Eastern Mollika, top restaurants- all the places are at a close distance to enjoy a fun time with your friends and family.
Contact Us to Get Your Ideal Flat in Dhaka!
Land Wanted for Development in Elephant Road
We have one finished project in Elephant Road and interested to build more to accommodate the growing need of people! If you want to develop your land with efficient designs and elegant structures, please contact us to discuss the possibilities further!