Bangladesh's Fastest Growing Brand Award of Real Estate Industry for 2020-2021
ASSURE GROUP has recognized as Bangladesh's emerging Real Estate brand and has awarded with Fastest Growing Brand Award by AsiaOne, a Singapore based international magazine and United Research Services (URS).
sMr. Md. Sheikh Shadi, the honorable Founder and Chairman of ASSURE GROUP has also been honored as the Bangladesh's Fastest Growing Leader 2020-2021 Award for his immense contribution in the Real Estate industry of Bangladesh.
As an Award winner, ASSURE GROUP has virtually felicitated and has broadcasted on the leading news channel ZEE TV Middle East & North Africa, dated on March 05, 2021. The Award Ceremony will be held at Delhi, after the pandemic.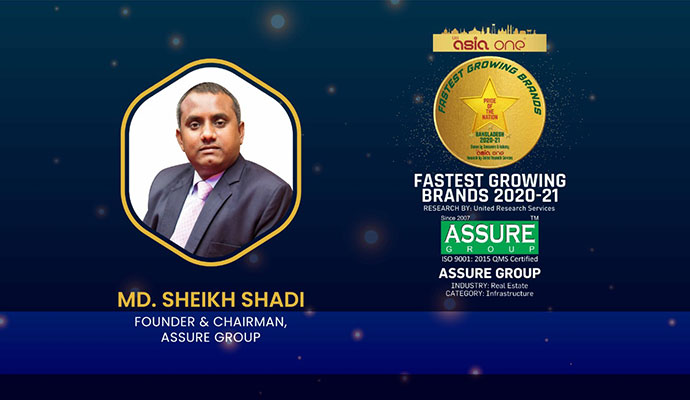 Speaking on the achievement, Mr. Md. Sheikh Shadi, said - We are delighted to receive this recognition and take pride in being a brand that is always striving for excellence and happy to build our customers Dream with the motto "Home for Peace." Since its inception in 2007, ASSURE GROUP has successfully completed and handed over more than One Hundred Twenty Residential Projects and win more than Two Thousand Customers heart by painting their Dream.
Mr. M. Arifur Rahman Shazal the CEO of ASSURE GROUP has state that this acknowledgment would further motivate us to perform better. "2020 has been a difficult year for us and receiving such awards will infuse new energy to progress."
Watch the award-winning speech of Mr. Md. Sheikh Shadi on ZEE TV Middle East & North Africa here.
Watch the full Awards Winning Ceremony 2021 of AsiaOne Magazine