Groundbreaking Ceremony of "Assure Q. H. Villa Project"
We are very much delighted to announce that 𝗔𝗦𝗦𝗨𝗥𝗘 𝗚𝗥𝗢𝗨𝗣 has started construction work of another luxury residential apartment project named "𝗔𝗦𝗦𝗨𝗥𝗘 𝗤.𝗛. 𝗩𝗶𝗹𝗹𝗮", at Sector-05, Uttara, Dhaka.
Following features will be available at the project:
𝗣𝗿𝗼𝗷𝗲𝗰𝘁 𝗟𝗼𝗰𝗮𝘁𝗶𝗼𝗻: House 02 | Road 04 |Sector 05 | Uttara | Dhaka. Locate on => Google Map here
Apartment Size: 1777 Sq. Ft. (Single Unit)
Orientation: North Facing.
Apartment Contains: 03 Bed | 03 Bath (02 Attached) | 02 Veranda | Living | Dining with Family Living | Kitchen with Veranda | Maid's Toilet.
𝗛𝗲𝗶𝗴𝗵𝘁𝘀: G+08 Storied
The ceremony has begun with Milad & Dua Mahfil and followed by groundbreaking at the project premise, dated on 21.07.2022. All the honorable landowners along with other high officials of 𝗔𝗦𝗦𝗨𝗥𝗘 𝗚𝗥𝗢𝗨𝗣 were also present at the Ceremony.
Call for inquiry: +𝟴𝟴𝟬𝟵𝟲𝟭𝟮𝟬𝟬𝟴𝟴𝟬𝟬
Explore for Similar Property=>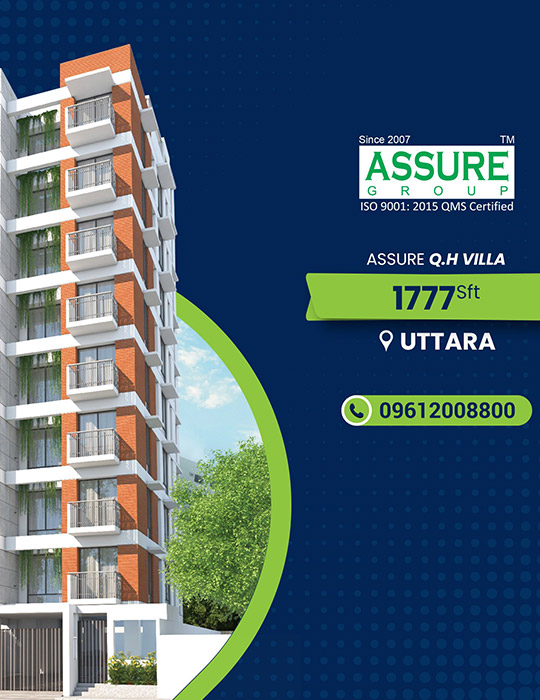 Photo Gallery of Inauguration Ceremony of Assure Q. H. Villa Project