Inauguration Ceremony of "𝗔𝗦𝗦𝗨𝗥𝗘 𝗠𝘂𝗿𝘀𝗵𝗲𝗱 𝗛𝗲𝗶𝗴𝗵𝘁𝘀"
𝗔𝗦𝗦𝗨𝗥𝗘 𝗚𝗥𝗢𝗨𝗣 has the pleasure to announce the inauguration of "𝗔𝗦𝗦𝗨𝗥𝗘 𝗠𝘂𝗿𝘀𝗵𝗲𝗱 𝗛𝗲𝗶𝗴𝗵𝘁𝘀" which is a premium residential project located at the serene of North Gulshan. This is a perfect abode that offers aesthetically designed spacious residences with ultimate exclusivity, comfort, convenience and privacy to the fullest.
Apartment Size: Type-A: 2223 Sq. Ft. | Type-B: 2375 Sq. Ft.
Apartment Conatins: 03 Beds | 03 Baths | 03 Verandas | Dining | Living | Family Living | Kitchen with Veranda | Maid's Living & Toilet | 2 Car Parking for each apartment owner.
Special Amenities: Swimming Pool | Gym | Senior Citizen's Leisure Area | Guest Waiting Room | Community Area | Prayer Room | Library | Snooker Space | Rooftop Sitting Area.
Project Location: House-5/A | Road-68 | Block-NW (A) | North Gulshan, Dhaka.
Locate on Google Map here: tinyurl.com/MurshedHeightsLocation
Orientation: North-West Corner
Building Heights: B1 + B2 + G + 9 Storied
The Earth Breaking ceremony of the project has begun with Milad & Dua Mahfil and followed by earth breaking event at the project premise, dated on 10.11.2022.
𝗠𝗿. 𝗦𝘆𝗲𝗱 𝗠𝗮𝗿𝗴𝗵𝘂𝗯 𝗠𝘂𝗿𝘀𝗵𝗲𝗱 & 𝗠𝗿. 𝗦𝘆𝗲𝗱 𝗠𝗮𝗺𝘂𝗻 𝗠𝘂𝗿𝘀𝗵𝗲𝗱 the honorable Landowners and 𝗠𝗿. 𝗠 𝗔𝗿𝗶𝗳𝘂𝗿 𝗥𝗮𝗵𝗺𝗮𝗻 𝗦𝗵𝗮𝘇𝗮𝗹, CEO of 𝗔𝗦𝗦𝗨𝗥𝗘 𝗚𝗥𝗢𝗨𝗣 along with other high officials were also present at the Ceremony.
Call Us for booking at: +8809612-008800
Explore: tinyurl.com/AssureMurshedHeights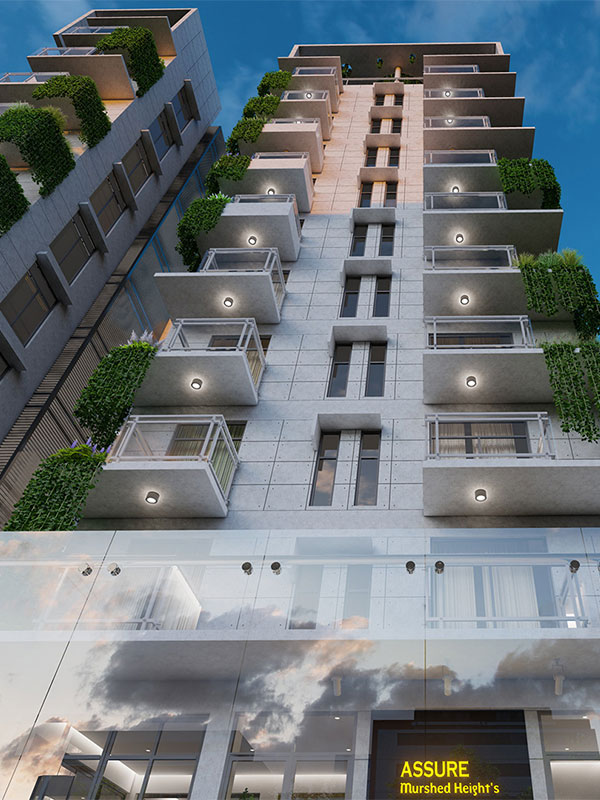 Home Loan Partner:
Standard Chartered Bangladesh, Mutual Trust Bank Limited, City Bank Limited, Dhaka Bank Limited, United Commercial Bank Limited, Community Bank Bangladesh Limited, BRAC Bank Limited, Delta Brac Housing Finance Corp. Ltd., IPDC Finance, IDLC.
Photo Gallery of Inauguration Ceremony of 𝗔𝗦𝗦𝗨𝗥𝗘 𝗠𝘂𝗿𝘀𝗵𝗲𝗱 𝗛𝗲𝗶𝗴𝗵𝘁𝘀