Some Posh Areas in Dhaka
The posh word oddly stands for "Port out & Starboard House," but the term refers to something really trendy, luxurious & superior to ordinary for general people. Like posh clothing & restaurants, a city can have posh areas as well.
In every city, there are certain urban & suburban areas that seem unique, more livable & standard than others. Dhaka also has some exquisite areas that can be titled as posh. Let's learn more about the Posh Areas of Dhaka which smells like a luxury.
Matters That Matter the Most
The din & bustle of Dhaka city may demotivate us sometimes but still, it's one of the most admired cities in Bangladesh. When you're uncertain about where to live in Dhaka, you may consider various matters like -
Job location
The distance of nearby hospitals
Safety factors
The distance of Shopping places
Nearby Educational Institutions
Positive Ambiance
How a Posh Area is Different From Others
You may want a positive atmosphere for your children's development & for your own mental health when it comes to choosing a suitable home. Holding this factor in mind and other factors given above, we can differentiate posh areas easily.
These areas have all the necessary pros in them and also they provide a very healthy, clean & excellent environment for living. A posh area is different from other areas because of traits like-
Well-structured buildings that keep a healthy distance from other buildings.
Recreational parks, lakes & gardens for kids & adults.
Shopping places nearby residential area
Better security system & safety management
High-end restaurants & boutique houses
Beautifully designed Mosques, temples & other holy places.
You may also keep this in mind that only a certain class of people can afford to live in posh areas. Without further ado, let's take a look at the top 9 Posh Areas in Dhaka.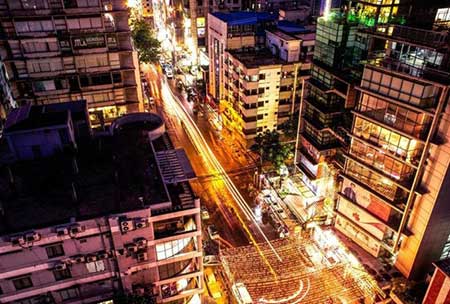 Top 9 Posh Areas in Dhaka
1. Gulshan
Gulshan is one of the most affluent areas of Dhaka. You will be awestruck by the glaring beauty of this area. The sublimely designed houses, premium restaurants & shopping places promote the luxury of this area. Almost 50% of the area is for residential purposes.
It also has malls like the Gulshan DCC market, where you can find things at a reasonable price. Police Plaza shopping moll just on the bank of HatirJheel attracts the city dwellers. A serene lake separates Gulshan from Baridhara. It's a good option if you want to feel a little cultured atmosphere in a crowded city.
2. Banani
Banani is located on the west of Gulshan. It has exclusive houses, mega malls & hotels as well. It has a charming lake called Banani lake. Many renowned organizations have their head offices in both Gulshan & Banani.
Thanks to the cultural heritage and abundance associated with these regions, these regions are still the wealthiest of all. Rent of this area is slightly higher than Gulshan & Baridhara as it's linked with more areas.
3. Baridhara
The Baridhara Diplomatic Zone offers the perfect blend of the neighborhood to be your home's destination. If you consider factors such as connectivity, accessible facilities, luxury, safety, and prominence Baridhara is the right place.
United Hospital is situated here. The Lake of Baridhara offers a perfect refuge to escape your life's daily monotony. Here you'll find the US Embassy, Canada's High Commission, Japan's Embassy, and so on, making the place a highly coveted & posh one.
4. Bashundhara R/A
Bashundhara R/A is one of the newest posh places in Dhaka. It is a residential community that is formed just off the Kuril highway, east of Baridhara. Unlike the above places, Bashundhara is offering a complete solution for living.
The best private universities in Bangladesh NSU & IUB are situated here. Also, the restaurant business is growing here. From corporate offices to educational institutions, health services to grocery stores, shopping malls, and entertainment, it's all under one boundary.
5. Uttara
Uttara is one of the rising posh areas in Dhaka. This neighborhood is a top choice for people who make regular trips because the airport is very close. Uttara is Dhaka's fastest-growing suburb which is becoming increasingly popular with time.
There are various local and international agencies, educational entities, health clinics developing here. The residential areas are beautifully structured. Every sector consists of a garden for locals to refresh.
6. Eskaton
Eskaton is the pioneer posh place of Dhaka. It has hosted the political and economic elites of the country since before independence. If you live in Eskaton, the scenic beauty of Ramna park is only within a walking distance. You can go there for a morning stroll or just to enjoy nature.
Primary areas such as Karwan Bazar, Moghbazar, and Banglamotor are close to Eskaton. Compared with other areas it has limited traffic. It is one of Dhaka's most peaceful regions, where our country's élites still tend to live.
7. Dhanmondi
Dhanmondi is well known for its wide array of private educational institutions, shopping complexes, restaurants, and so on. The restaurants in Dhanmondi are blooming like mushrooms in the jungle. More than a hundred restaurants exist here.
Dhanmondi has alluring apartments & buildings. Some antique buildings still exist here. The most appealing place in Dhanmondi is undoubtedly Dhanmondi Lake. it's a revitalizing place for the people living nearby and also outside visitors.
8. Wari
Wari is different from the other areas mentioned because it's situated in the old part of Dhaka. It has a mixture of history & aesthetics in its building structure. Nowadays the high storied buildings are also seen because of its demand. It's a small posh area among the other ordinary ancient areas.
It has the historical Boldha Garden, the biggest Christian cemetery, numerous stores of famous fashion houses, super shops & pleasing restaurants where youngsters can spend enjoyable time.
9. Baily Road
Baily road is a popular and much-fabled area of Dhaka. The trend of Fast food restaurants & skyscrapers in Dhaka started from here. Till now Baily Road offers you a wide range of choices to spend quality time.
You can enjoy stage drama at Mohila Samiti. It has one of the prominent educational institutions in Dhaka Viqarunnisa Girls School & College. Also, The popular Convention hall, Officer's Club is situated in Baily Road. So we can say it's one of the oldest & beloved Posh areas of Dhaka.
If you want to live a lavish life or want to experience a premium lifestyle, these are the poshest places Dhaka can offer.