Job Opportunity [at] Assure Group
Sr. Project Manager (Engineering & Constriction Department)
ASSURE Engineering & Construction Ltd. is a new sister concern of ASSURE GROUP which is already operational. ASSURE GROUP seeks talented professionals, guided by passion, commitment, motivation, drive, and attention to detail for the following position.
Job Details
Job Type: Full-time
Job Responsibilities:
Capable to Lead Team Independently.
Knowledge in BOQ Preparation from Design and Drawing.
Ensure that project work is carried out in accordance with standard operations & maintenance manuals, drawings and other specifications.
Refer all requests for design changes and obtain necessary approvals prior to carrying out the work.
Ensuring material quality & maintaining standards following approved specifications.
Understanding all designs, drawings & specifications according to project standards.
Report all site information to respective superior regular basis.
To review progress of Projects at various stages and give guidance to concerned contractors for completion of the project in a time bound manner.
Capability to manage construction site efficiently.
Ensure timely completion of works as per planned schedule.
Liaison within Government Departments for related works.
Should be pro-active for duties & responsibilities.
Prepare Master Budget, monthly budget and work program.
AII kind of finishing work supervision and control of wastage
Overall supervision of project safely, security and quality of all type work.
Must have excellent communication skills to coordinate between head office, sites, clients, respective consultants and other vendors.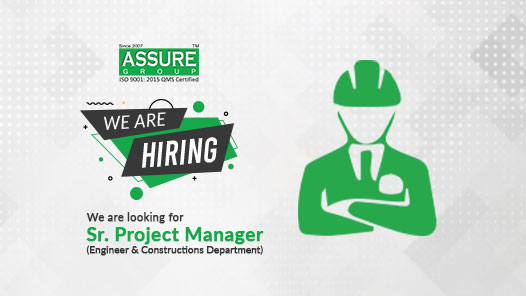 Educational Requirements:
B.sc in Civil Engineering from any reputed Public University
Experience:
At least 10-year(s) Experience as Sr. Project Manager of the Engineering Department of any renowned & reputed Real Estate Developer Company.
Additional Requirements:
Experienced in dealing with Govt. /Semi Govt. project.
Experienced in High Rise building or commercial project (Specially 3 to 4 Basement Project).
Experienced in working with consultants, contractors
Knowledge on fire safety and security issues
Ability of hazards identification and risk management
Leadership, analytical, and problem-solving abilities
Ability to work under pressure and physically fit
Adequate knowledge on Microsoft project, Auto CAD and related software
Must be intelligent, hardworking and dedicated with the fitness to work long hours.
Should be dynamic, ability to manage team and have Excellent Leadership Quality and Interpersonal Communication Skills.
Salary and benefits
Salary: Negotiable.
Other Benefits: As per organization policy
Job Location: Dhaka (If needed frequent movement out of Dhaka.)
Disclaimer
Please refrain from applying if you do not hold at knowledge or aptitude in relevance to the specifications mentioned above