Job Opportunity [at] Assure Group
Head Chef
ASSURE GROUP is opening a new sector of service in the field of Tourism. To make the service all inclusive and premium, the group is looking for a Head Chef for its Hotel/Resorts at Cox's bazar and Manikgonj.
Vacancy: Not specific
Job Context
We are looking for an experienced and qualified Head Chef to organize the kitchen activities. You will be the first in command in the facilities and will create and inspect dishes before they arrive at the customers ensuring high quality and contentment.
Industry: Travel & Tourism
Functional Area: Hotels, Restaurant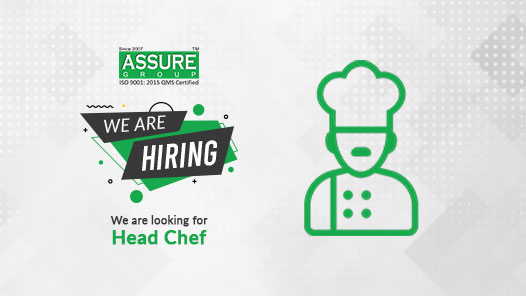 Job Responsibilities:
Plan the kitchen operations i.e. Menu, Manpower, workflow, procurement, QHSE & training for the kitchen production team
Direct the preparation, seasoning, and cooking. May plan and price menu items, order supplies, and keep records and accounts. Will work on the range with the kitchen team to train, guide & develop
Monitor sanitation practices to ensure that employees follow standards and regulations
Prepare, Produce and Present food to the agreed ABI standard and quality with proper presentation, and prepared to the agreed profit accordance with company policy
Organize all resources within the kitchen for optimum productivity and use Prepare, cook and produce food with particular emphasis on presentation, hygiene and economy
Plan and cost regular and party menus on weekly basis in co-ordination with the
Store Manager site in-charge to ensure variety and healthy options
Assist Store Manager in indenting for provisions and discipline
Develop and train junior staff at the site to take on more responsibilities in the future
Ensure proper cleanliness of the kitchen equipment and the kitchen area; Observe safety rules and procedures
Ensure that equipment and materials are maintained as per ABI standards
Report and take action in relation to any accident, incident fire, loss or damage
Ensure proper grooming and hygiene from all staff in the production unit
Ensure proper sorting of stores items and maintain the stores including meat, fish, vegetables and Dairy products, and stored under correct temperatures in Chiller and freezer containers
Employment Status: Full-time
Educational Requirements: Degree in Culinary science or related certificate
Experience Requirements: At least 10 year(s)
Additional Requirements: Min 5 years as a Head Chef in F&B industry
Job Location: Cox's Bazar/ Manikgonj.