Career Opportunities @ Assure Group
Experienced Creative Graphics Designer? | Apply Now!
He / She has to be
Create visual concepts, by using various design software.
Create visual animation, motion graphic concepts, by using various software.
Create visual video graphics, video editing concepts, by using various software.
To communicate ideas that inspire, inform, or captivate consumers.
To develop the overall layout and production design for advertisements in various media like web, social or any other broadcast, brochures, magazines, and corporate reports.
The goal is to inspire and attract the target audience.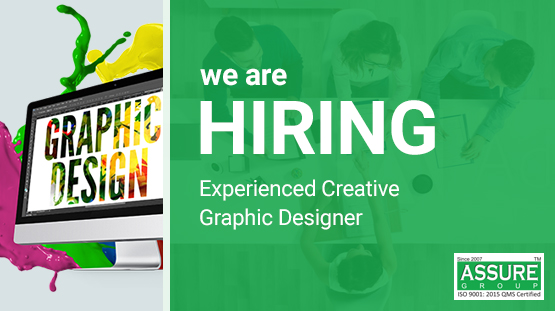 Job Responsibilities:
Study design briefs and determine requirements.
Schedule projects and define budget constraints.
Conceptualize visuals based on requirements.
Prepare rough drafts and present ideas.
Develop illustrations, logos and other designs using software or by hand.
Use the appropriate colors and layouts for each graphic.
Work with copywriters and creative director to produce final design.
Test graphics across various media.
Amend designs after feedback.
Ensure final graphics and layouts are visually appealing and on-brand.
Requirements:
Proven graphic & visual designing experience
A strong portfolio of illustrations or other graphics, animation and video.
Familiarity with design animation & video software and technologies (such as InDesign, Illustrator, Dreamweaver, Photoshop)
A keen eye for aesthetics and details
Excellent communication skills
Ability to work methodically and meet deadlines
Bachelor degree/Diploma in any discipline (Degree in Design, Fine Arts or related field is a plus)
Please provide your online PORTFOLIO Link on CV.
Experience:
Mid-level or proven creative knowledge, experience for at least 02 years
Compensation & Other Benefits:
Mobile bill
Salary Review: Yearly
Festival Bonus: 2
Job Location: Dhaka
If you are really confident enough to meet the requirements then why are you waiting for?